Prevented Planting Estimate Report
Crop Risk Services understands the challenges Mother Nature can throw at our farmers and this spring is definitely one for the records books in many parts of the country. To help our agents aid in the conversation, we've created a new report, the Prevented Planting (PP) Estimate Report, to easily identify PP guarantees for the 2019 RY. This report, combined with the PP Eligibility Report, will help insureds better evaluate their crop insurance options and make more educated decisions to best serve their farming operation.
In general, if PP provisions are applicable for the crop, the insured may receive a PP payment for eligible PP acreage if the insured was prevented from planting the insured crop due to an insured peril occurring during the PP insurance period and if all other PP provisions are met. Prevented planting coverage factors are designed to provide protection based on pre-planting costs generally incurred up to the point of planting the crop. Fixed and variable costs, established from available national and state crop budgets, are compared to average insurance guarantees to establish prevented planting coverage factors. These costs can include purchase of machinery, land rent, fertilizer, actions taken to ready the field, pesticide, labor, and repairs.
New policyholders are eligible for PP payments if the insured COL occurred on or after the SCD for the current CY and all other requirements for PP have been met. Carryover/Continuous policyholders are eligible for PP payments if the insured COL occurred after the SCD for the previous CY, and all other requirements for PP have been met. If you are prevented from planting your acreage, you are required to provide a notice of loss to your insurance agent within 72 hours after the final planting date, if you do not intend to plant the insured crop during the late planting period or if a late planting period is not available; or it's determined you will not be able to plant the insured crop within an available late planting period.
To learn more about these tools and other Claims resources, please contact your CRS representative or visit https://cg.cropriskservices.com/Resources/ClaimGuidelines.
Crop Risk Services Announces Precision Farming Service
DECATUR, Ill.--(BUSINESS WIRE)--Mar. 29, 2018-- Crop Risk Services ("CRS") today announced a value-added service for clients that delivers precision farming capabilities bundled with its federal and private insurance offerings. The new facility will capture agricultural technology driven precision planting records to improve insurance coverage, through mapping advantages over Farm Service Agency (FSA) and more accurate actual production history (APH).
"Our clients understand the promise of technology in production," said Brian Young, President of Crop Risk Services. "With insurance informed by precision farming data, they'll see time savings in making claims, record keeping, and auditing. We believe these benefits extend to our agents and adjusters as well."
Farmers will benefit through potentially higher crop insurance coverage and lower premiums, quicker and more accurate claims, and reduced record keeping during an audit. Crop Risk Services agents are invited to participate in the 2018 pilot now, with the offering extended to all agents and clients for fall 2018 policies. The service utilizes TruAcre Technology's precision farming capabilities.
Kevin Boeckenstedt, Special Projects Manager, added, "CRS is committed to utilizing emerging technology to bring new capabilities to our clients. This offering builds off an established record of doing so, expanding available capabilities beyond our Aeros solutions, Hail Probability, and Unmanned Aerial Vehicle resources."
About Crop Risk Services
Crop Risk Services is a leading primary crop insurance managing general agent, serving North American farmers with affordable crop income protection. The company is headquartered in Decatur, Illinois with offices in Council Bluffs, Iowa and Chicago, Illinois. Together our employees have over 100 years of combined multi-peril crop insurance (MPCI) experience. The company is a wholly owned subsidiary of Validus Holdings, Ltd. Contact Crop Risk Services
About Validus Holdings, Ltd.
Validus Holdings, Ltd. (NYSE: VR) is a leading global provider of reinsurance, insurance, and asset management services. Validus companies maintain a worldwide presence with more than 1,000 employees in 17 offices. Learn more at validusholdings.com .
View source version on businesswire.com:
https://www.businesswire.com/news/home/20180329005099/en/
Source: Validus Holdings, Ltd.
Press Announcement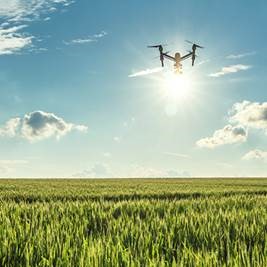 Brian Young, President of Crop Risk Services, has been quoted in Insurance Business America. The article 'Living in the future: aero-tech is changing the way adjusters work' by Sam Boyer was featured in December 2017. To read the article please click here.
Aerial Drone Milestone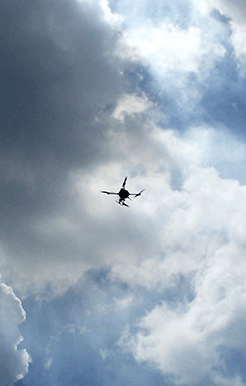 CHICAGO, April 22, 2015 - Crop Risk Services (CRS) announced today that it has received regulatory approval from the Federal Aviation Administration to operate unmanned aerial vehicles (UAVs) to expedite and improve claims processing, an industry-first addition to its cutting-edge suite of claims technologies.
FMSC
Colleagues from ADM Crops Risk Services join with ADM and the Community to help turn hunger into hope!
On March 13th and 14th, Feed My Starving Children (FMSC) hosted a mobile pack event at St. Paul's Lutheran Church in Decatur, IL. During the 2-day event, over 209,000 meals were packed which surpassed the 200,000 meal goal set for the event. One of the ingredients to the MannaPack™ Rice meals is Textured Vegetable Protein (TVP). TVP is supplied by ADM and made in plants in both Decatur, IL and Bushnell, IL. The meals are scientifically formulated to help provide nutrition to starving children in all regions of the world.
Several CRS colleagues joined other ADM colleagues as well as community members to volunteer for one or more 2-hour shifts during the event. Strong ADM volunteer participation, along with a $25,000 contribution from ADM Cares, made this event possible. Taking a few hours out of our busy schedules to help make a difference proved to be both a fun and meaningful experience.
CRS Colleagues: Rob Urquhart, Steve Hosto, Julie Fombelle, Scott Rhodes, Laurie Pakula, Tony Heckman, Jason Thomas, Tim Yeakley, Dana George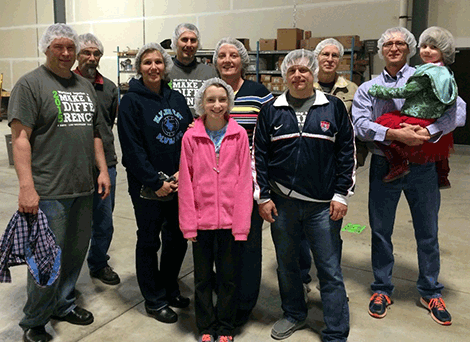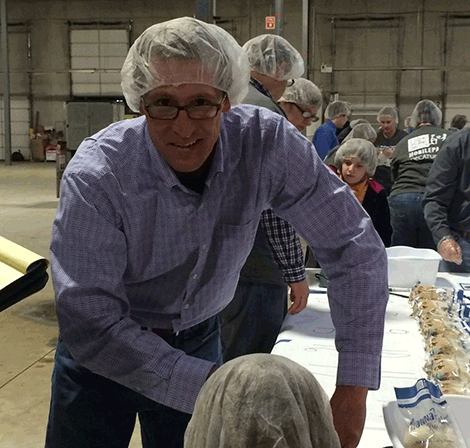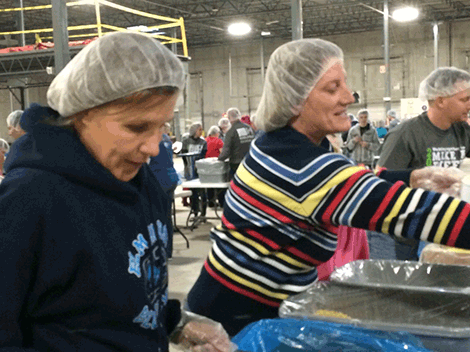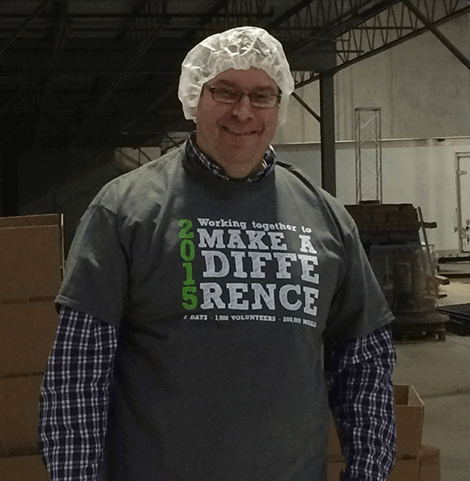 How Can YE Help Insureds?
Yield Exclusion (YE) allows a producer to exclude an actual yield(s) from an eligible crop year for the county (such as a year in which a natural disaster or other extreme weather event occurs) from their production history when calculating approved APH yields used to establish their crop insurance coverage.
The level of insurance coverage available to a producer is based on the producer's average yields over the four to ten most recent crop years and excluding lower yielding eligible crop years can increase the producer's approved APH yield.
Simplified Claims
Recently, the RMA has increased the dollar tolerance for the use of Simplified Claims. With this in mind the claim process can be accelerated by utilizing the Simplified Claim process offered by ADM Crop Risk Services. This process was developed to serve our insured's better by expediting the process of finalizing losses. Please see the Simplified Claim guidelines to assist insured's that would like to take advantage of CRS's Simplified Claim process.
Click here for more information about express claims.
Fall Crop Meeting
Lee Agency & Central State Bank invite you to attend a "Supper Seminar" with Steve Maulberger on September 11th at the Calvary Church - Family Life Center in Muscatine IA.
Topics Include:
Potential Claim Situations
Marketing
Anticipated future pricing
ADM Partners
Please RSVP by 9/08/14: 563-263-9252
2014 Farm Progress Show
Visit ADM at the 2014 Farm Progress Show to play a game of bags and enter to win the set!
August 26-28th, Boone, Iowa Location #234 - Air-conditioned tent located on Central Avenue between 2nd and 3rd Streets.
Learn about the products and services ADM has to offer
Discuss soy sustainability & water quality with Secretary of Ag Bill Northey on Tuesday, Aug. 26th
Watch Max Armstrong & Orion Samuelson on our stage every day at 12:00 pm
County Crops Program Expansion
The Risk Management Agency (RMA) is expanding the number of counties where certain crops are insurable for the 2015 crop year. The following attachment, 2015 EXPANSION OF EXISTING CROP PROGRAMS lists the 2015 crop year winter, fall and perennial crop expansion by crop, state, and county for permanently-established (non-pilot) programs.
The RMA is continuing its policy of expanding crop insurance programs, particularly where interest by producers has been shown, which is consistent with the Administration's priority of providing producers the opportunity and responsibility for managing their own risk for their farming operations.
2015 Fall Update Meetings
The schedule for the ADM Crop Risk Services 2015 Fall Update meetings is now available. The meetings are scheduled from 9:00 a.m. - 12:30 p.m. with a registration time of 8:30 a.m. We will be offering an optional 1 hour Ethics credit directly after lunch.
Click here to view the Fall Update Meeting schedule of dates and locations, as well as to RSVP!"
Vomitoxin in Wheat
Weather conditions this year have been conducive for the development of vomitoxin in wheat.
If you have vomitoxin in your grain, contact your crop insurance agent to have a harvest loss setup with "Mycotoxin" listed as the cause of loss. After this an ADM Crop Risk Services Representative will be in touch with you to go over the options for sampling your grain.
Mapping 2.0
We are excited to announce the release of the first edition of our powerful new mapping program.
Mapping 2.0 contains a new interface with a powerful toolset making it faster and easier to map policies than ever before. We have also upgraded our server farm bringing more power to the Aeros™ platform.
We will continue adding enhancements and time saving functions to help our users automate and streamline their daily tasks.
Hail Probability Report
ADM Crop Risk Services has added maps to our Hail Probability Reports.
The fields highlighted on the map have a probability of hail damage now making it easy to identify.
Trend Adjustment FAQ
The RMA has recently released a bulletin to address some commonly asked questions in regards to trend adjustment. Some of the common questions that have been raised are when a crop's practice/type is not eligible for trend adjustment, and situations in which the Trend-Adjusted APH yield may be lower than what the approved APH yield would have been without the trend adjustment.
Mobile Quoting
At ADM Crop Risk Services, we're not just committed to technology. We're committed to your bottom line. That's why we're constantly investing in new, leading-edge technology to help agents and farmers work faster and smarter.
Today, we're proud to announce that our Aeros System software upgrades are officially live! The upgrades include mobile insurance quoting for CRS's AerosExpress - Agent™ Apple iPad® app, as well as enhanced mapping capabilities for Aeros Mapping™ and a faster infrastructure for reporting and processing claims.
Agent Spotlight
Joe Young founded Young Crop Insurance Agency, LLC in 1990, when he lost 300 acres of farmland in the 1980's due to a state flood control structure. He started as a crop adjuster for the Federal Crop Insurance Corporation. Later, he was a crop adjuster for a private crop insurance company and was promoted to State Loss Supervisor and Field Representative.
Young Crop Insurance Agency, LLC focuses solely on crop insurance and continues to grow. Joe and his wife Cathy started the business in their home and as the business expanded he built a new office in 1999 and expanded again in 2006. Joe has a total of three additional employees in his agency.
In conjunction with crop insurance, Joe is the fourth generation farmer for Young Family Farms in Rushville, Ohio where he farms with his eldest son Ryan. Young Family Farms grows corn, soybeans and wheat on 1,100 acres in Fairfield and Perry counties. With Joe being a farmer himself, he has the best interest at heart for his insured's. Joe is very thankful for the confidence the farmers put in him, he has made many lasting friendships through the years and hopes to keep them for many more.
Joe was born and raised on the family farm in Fairfield County, Ohio. He has been married to wife Cathy for 33 years and they have three children; Ryan, Julie & Joe. They are the proud grandparents to four year old Caitlyn and two year old Luke. He has been a member of St. Mary's Catholic Church in Bremen, Ohio, for close to 50 years. He and Cathy are very active in their church and they enjoy working with the St. Vincent de Paul Society. We are proud to have him as a loyal part of the CRS family for the past five years.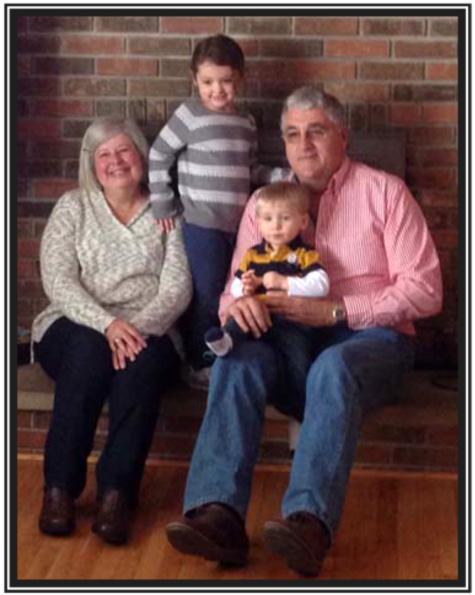 Tough Mudder
Jumping into freezing water and running through a field of live wires isn't exactly how people want to spend their weekends, but for one ADM colleague, the charity association is worth the feat.
ADM Security Investigator Matt Walker competed in the 24 hour long World's Toughest Mudder Saturday-Sunday, Nov. 16-17, both to test his physical stability and to help raise money for a charity. To compete in Tough Mudder events, participants are given a website to collect donations for their race, and Walker was able to raise $4,765 through the website, with ADM matching $4,390, giving him a grand total of $9,155. All donations go to the Wounded Warrior Project.
"The way I saw it, there are a ton of really wonderful charities out there that are worthy of our donations, but if it wasn't for the men and women of our military, we wouldn't have the freedom to donate to those charities as we see fit," Walker explain.
At the beginning of the race, the Tough Mudder organization announces who raised the most money through the website, Walker was less than 200 dollars shy of the winning total, but he knew since they only counted what was raised through the website that he had raise significantly more.
"More important than my physical performance was my fundraising performance," Walker added. "I did not have a specific goal in mind when I started the effort. I simply wanted to raise as much as I possibly could."
Walker found out during a pit stop that his donation efforts helped encourage another racer to raise as much money as possible.
"He introduced himself (as the donation winner) and excitedly explained that he had been tracking my donation website for months because I was the only person who was close to him in terms of raising money," Walker said. "If it wasn't for me pushing him with my donation levels, he never would have raise as much money as he did for Wounded Warrior."
The World's Toughest Mudder takes a five mile Tough Mudder obstacle course and puts it on a loop and participants are to run through the course continuously for 24 hours. The course features 22 different obstacles including crawling in an area of freezing mud with live wires hanging over head and swimming under a plank in freezing water. After each lap, participants meet up with a health providers to make sure they can withstand another lap. Walker said he met his physical goals by being able to race the entire 24 hours and finished 10 laps, which totals 50 miles.
Walker started participating in Tough Mudders in November 2011 originally to mix up his workout routine and has stuck with them to help raise money for the Wounded Warrior Project.
Since being founded in 2010, Tough Mudder has donated over 6 million dollars to the Wounded Warrior project.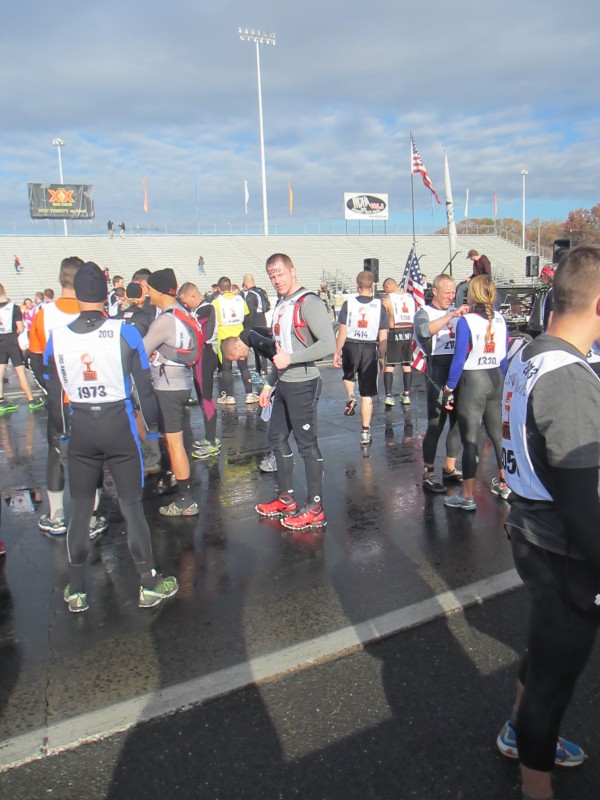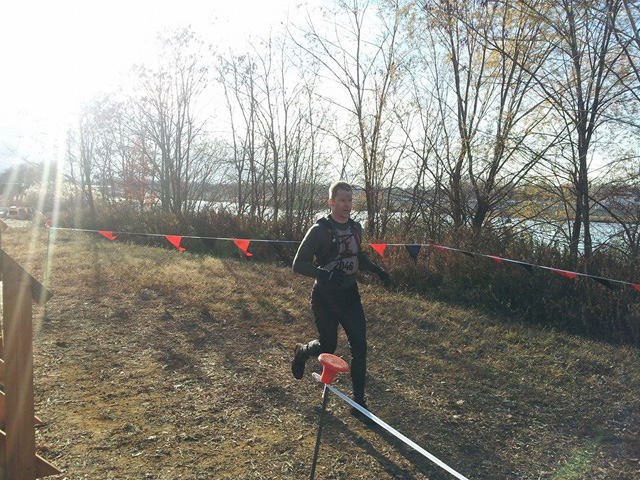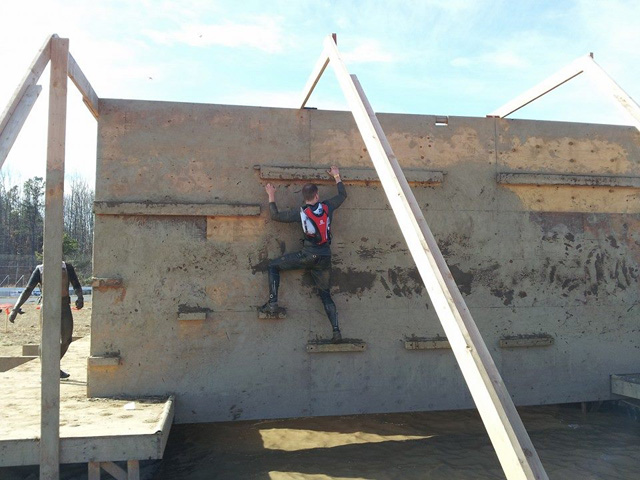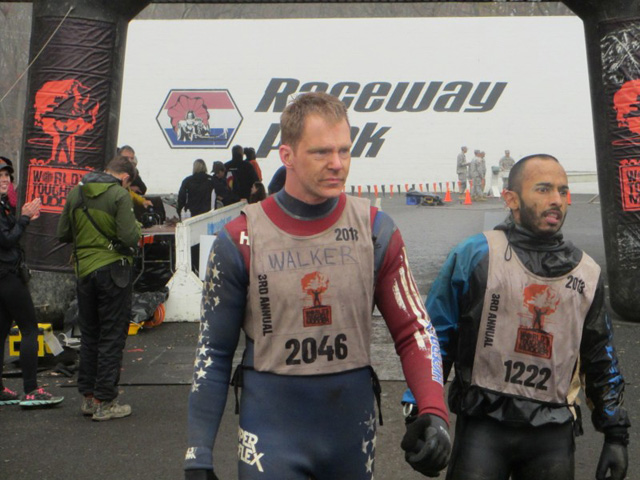 Council Bluffs Awards
Our Council Bluffs Iowa office was overflowing with good news last week.
While celebrating the opening of their new office on Friday, CRS recognized underwriter Bev Krueger for a template that she created to help speed up the process of RMA manual correction requests. The RMA has now adopted this form for all AIPS to use.
The entire underwriting staff was also awarded the 2013 Values in Action award. It was accepted by Lisa Beckman on the staff's behalf.
The Council Bluffs office has seen tremendous growth throughout the last five years. They have gone paperless and wiped out their filing cabinets, added 11 colleagues, installed many new printers and large mapping and binding equipment. Their new office allows for continued growth and development for our colleagues and provides an environment to better serve our customers.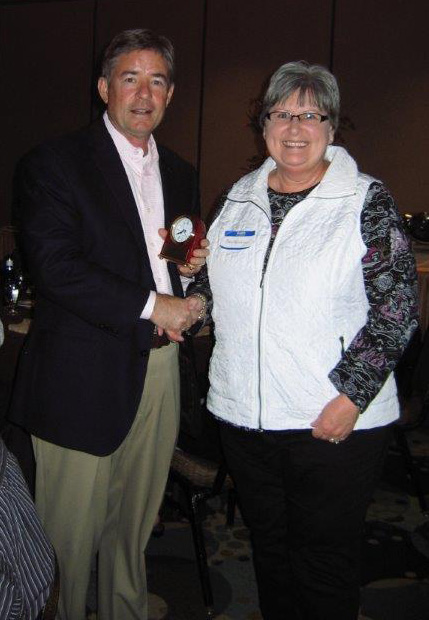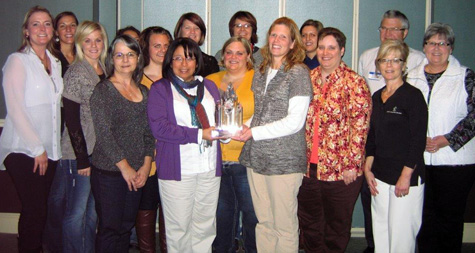 'Til We Meet Again
The roots of the relationship between ADM and the National FFA Organization, formerly known as Future Farmers of America, run deep.
For more than 50 years, ADM colleagues have partnered with FFA affiliates to promote agricultural education through contributions, sponsorships, volunteering and other grassroots efforts. In turn, FFA alumni have gone on to be some of the company's valued suppliers, customers and employees.
Teams from across ADM's businesses helped sustain that relationship-and established new ones-recently at the 86th annual National FFA Organization Convention & Expo in Louisville, Ky. There, representatives from ADM Crop Risk Services (CRS), ADM Alliance Nutrition (ANI), Human Resources and other groups hosted and met with FFA students to discuss ADM's purpose and the challenges and opportunities facing U.S. agriculture as the world population grows and the demand for food rises.
A record 62,998 people attended the convention, offering ADM an important opportunity to connect with the future leaders of the agriculture industry, according to Mark Schweitzer, managing director of intermodal and international container freight.
"We have a responsibility to be good stewards not only of the environment, but of our industry as well," Schweitzer, an FFA alum and member of the National FFA Foundation Sponsors' Board, said. "Some of these kids are going to be among the top industry leaders, whether as suppliers on the raw materials side or as talent on the business side. Either way, it's important to get that leg up and build brand recognition now."
Here are some of the sights from ADM's booth at the convention.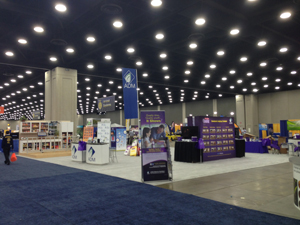 ADM was one of more than 450 exhibitors to participate in the Expo portion of the convention. Over the course of the week, thousands of FFA members passed through the ADM booth.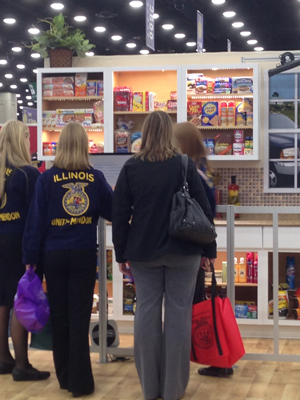 The "Harvest to Home" exhibit, also seen recently at the 2013 Farm Progress Show, included a life-size kitchen showcasing products featuring ADM ingredients that are used in homes all over the world.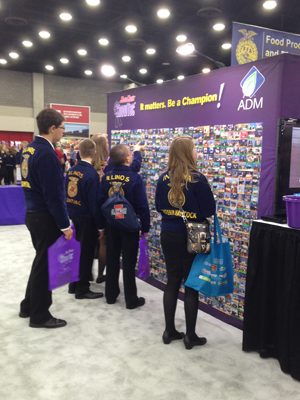 ANI brought a "wall of champions" to the expo, highlighting more than 800 prize-winning show animals from 2012 and 2013 that used MoorMan's® ShowTec® show feed products. Another wall allowed visitors to participate in an interactive livestock judging contest.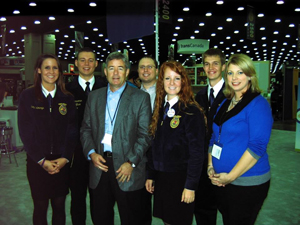 ADM Crop Risk Services hosted a reception for the 3,577 American FFA Degree recipients for 2013. The American FFA Degree is awarded to FFA members who have demonstrated the highest level of commitment to FFA. CRS also sponsored the American Star Awards, which determine the best of the best among American FFA Degree recipients. Here, CRS leaders pose with a group of FFA students.
2014 Spring Update Meetings
The schedule for the ADM Crop Risk Services 2014 Spring Update meetings is now available. The meetings are scheduled from 9:00 a.m. - 4:00 p.m. with a registration time of 8:30 a.m.
The schedule for the Spring Update Meeting dates and locations can be found here. Don't forget to RSVP!
Agent Spotlight
Last week, CRS participated in the South Texas Farm and Ranch Show in Victoria, TX. This is one of the larger shows in South Texas. Jon Andel, from Edna, TX, was one of our CRS agents who also participated and found the Show to be a great chance to visit with many farmers and ranchers.
Andel worked as a claims auditor for 6 years and is glad he can bring CRS to the Texas Gulf Coast. He says the years as an auditor have helped him better understand what products suit the needs of his clients and working with CRS has given him the ability to work closer with his clients and provide the product that best fits their needs.
He is pictured here with his 12-year old daughter Makenzie. It is a real family partnership as Makenzie is credited for inventing her father's agency's logo and name, 4-AG, which means 4 Andel Girls.
Makenzie is the oldest of Andel's four daughters, is active in FFA and recently won the Junior Miss Jackson County Youth Queen Duchess.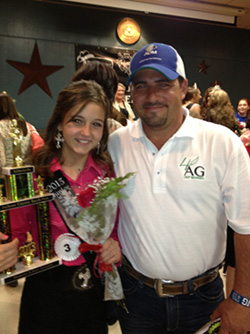 FFA American Star Winners
On Saturday, FFA announced the winners of their American Star awards. This year's winners are Tyler Loschen of Illinois, American Star Farmer; Jacob Schindler of Georgia, American Star in Agriscience; Trenton Bemis of Wisconsin, American Star in Agricultural Placement; and Chelsey Scholsnagle of Kentucky, American Star in Agribusiness.
The American Star is awarded to FFA members who have worked or served at an agricultural based business and shown excellent agricultural skills and competencies in supervised agricultural experiences. Sixteen finalists were chosen for the award, four for each category. CRS not only was a sponsor, but helped assist in judging.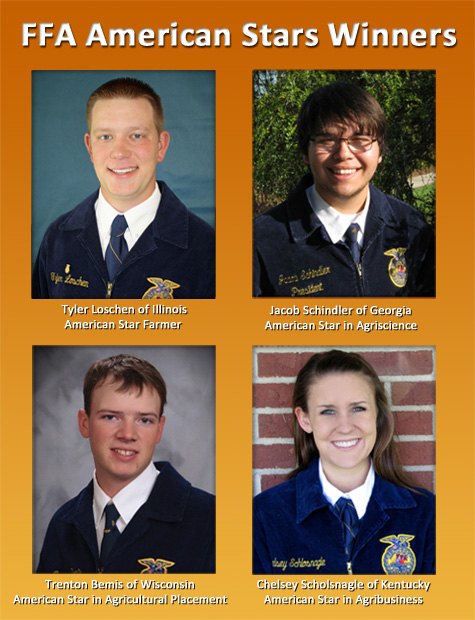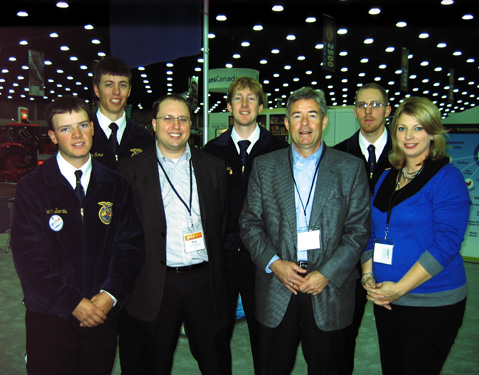 APH Review Preparation
The RMA requires an APH review on all claims that reach $200,000 or higher per crop per county. Before a claim is paid, the AIP must review proof of production, by unit for the prior three years, for affected crops and counties. Because of this, ADM Crop Risk Services has created a checklist to serve as an aid when preparing APH documents for review.
Click here to visit our Claim Guidelines page to view the APH Reveiw Preparation Checklist.
2014 Spring Update Meetings
The schedule for the ADM Crop Risk Services 2014 Spring Update meetings is now available. The meetings are scheduled from 9:00 a.m. - 4:00 p.m. with a registration time of 8:30 a.m.
The schedule for Spring Update Meeting dates and locations can be found here. Don't forget to RSVP!
ADM Values In Action Award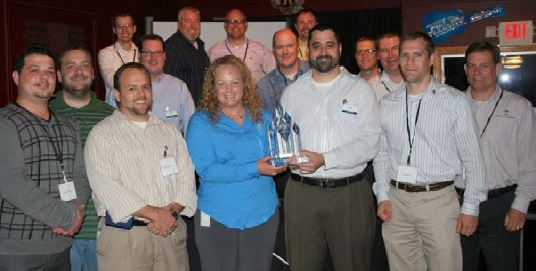 On September 18, ADM Crop Risk Services was presented an ADM Values in Action award in recognition of the significant benefits provided to customers and the company by the new Aeros Express™ software.
"We knew we had to do things better than the other 17 approved crop insurance providers," Greg Mills, President of ADM Crop Risk Services, said. "Since all government crop insurance products are exactly the same, we focused our efforts on using technology to sustain an innovative edge through the service of claims. Through extensive planning and by utilizing our creative economies, all CRS departments were involved in developing and implementing the final product: Aeros Express."
Aeros Express, a proprietary software tool, allows adjustors to map damaged areas, take photos and prepare and submit claims without leaving the field. Doing so has helped CRS improve the turnaround time on claims by about 60 percent when compared to reporting and adjusting claims on paper.
There are many other advantages of the Aeros Express program:
It is environmentally friendly and virtually paperless. Adjustors no longer need to print multiple copies of claims and send them to offices and agents. All of the documents and claim information are easily accessible as soon as adjusters submit claims.
It saves time for agents, who no longer need a large recordkeeping system and can still retrieve claim information anytime, from anywhere, electronically through Aeros Express.
Claims are immediately available for auditing once complete, and is available for payment as quickly as the insured can digitally sign the Final Notice of Loss. These process improvements cut the time needed to process a claim from weeks to just hours.
"In 2012, we averaged $163.20 of savings per claim," Mills continued. "And even though the U.S. drought of 2012 generated about 50 percent more claims than the previous year, we were able to process a higher volume of claims with faster service. In the first year of the program, we achieved significant productivity improvements at significantly lower cost."
ADM established the Values in Action (VIA) award program in 2007 to recognize exemplary ADM teams who achieve positive business results by embodying the values of The ADM Way. Nominations are evaluated based on the following criteria:
Positive business results achieved
ADM Way values demonstrated: integrity, respect, excellence, resourcefulness, teamwork and responsibility
ADM Way priorities supported: returns and Team ADM (collaborating beyond location, function, organizational boundaries; sharing and implementing best practices; and working together to improve safety)
Up to five winners are selected each year. Specific members of the CRS team who were crucial in the development of Aeros Express include:
Sam Bright, Information Support Services
Brian Young, Claims
Lisa Beckman, Underwriting
Shawn Simpsen, Sales
CRS is on the move!
Over the last five years we have seen tremendous growth throughout the company. In the Council Bluffs, IA office, we've wiped out the file cabinets to become paperless, added 11 colleagues, numerous printers, and large mapping and binding equipment. The Council Bluffs office houses the MPCI Underwriting and Mapping Departments.
With that growth comes the need for a bigger office to better service our customers and foster an environment of continued development for our colleagues. We are in the final stages of developing a space that meets our growing needs and provides a more efficient work environment for the Council Bluffs staff. After this week our new address will be 300 W. Broadway, Suite 105, Council Bluffs, IA, 51503. Phone and fax numbers are unchanged.